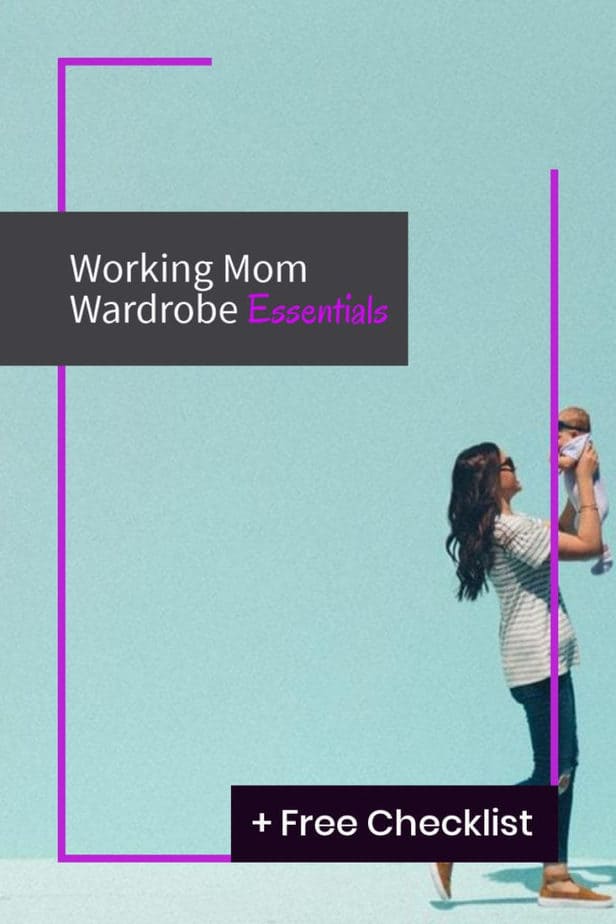 11 Wardrobe Essentials You Need to Survive Being a Working Mom
Being a working mom is hard, but having the right wardrobe essentials in your closet can help make the marathon that is momhood just a little easier.
If you would love to have something in your life that transitions effortlessly from awesome office woman to "the-bomb" soccer mom, let's dive in!
Why You Need These Wardrobe Essentials as a Working Mom
Now, it's true, as a working mom you wear so many hats. At work, you have to polished and professional.
Having a clean, well-kept appearance at work is important
Let's face it. Your job is important. If it wasn't, I guarantee that you would quit it so that you could be home with your kids. Since you have the job, I know you want to be good at it. You want others to see that you're good at it and you'd probably like to have a raise too.
If you show up at work and look like you don't have it all together, people will assume that you don't, in fact, have it all together. Your appearance might not actually affect your job performance, but it doesn't affect how people perceive your ability to do your job.
Conversely, if you look like you have your ducks in a row, people will assume you've got your poop in a group.
Bottom line. Look professional. Ack professional. You'll be professional.That will take you a long way in your career.
Being supportive of your kids is also important
Now let's talk about your kids. They may just be the MOST important thing in your life. You show up for them no matter what. You're at the parent-teacher conferences, soccer practice, coach pitch games, school plays, award assemblies, class parties. You name it, you're there to cheer them on no matter what. Even when you're dog tired after working all day. You show up. You show up like it's the most important thing you've ever been to.
Your office job and your kids activities are vastly different
Now, here's where the problem resides. Time and well, laundry. You rush home from work, pick up the kids and have just enough time for the little ones to scarf down some food before rushing out the door again or you completely skip going home altogether and buy some fast food on the way. You don't have time to change clothes. Even if you did completely change, that's a whole other outfit to add to the laundry which you never have time to do.
The secret is having some go-to pieces that can swing both ways. Day time at the office and moonlight at the ballgame. These 11 wardrobe essentials will not only increase the versatility of your clothes but up your style game as well as add more ease into your life.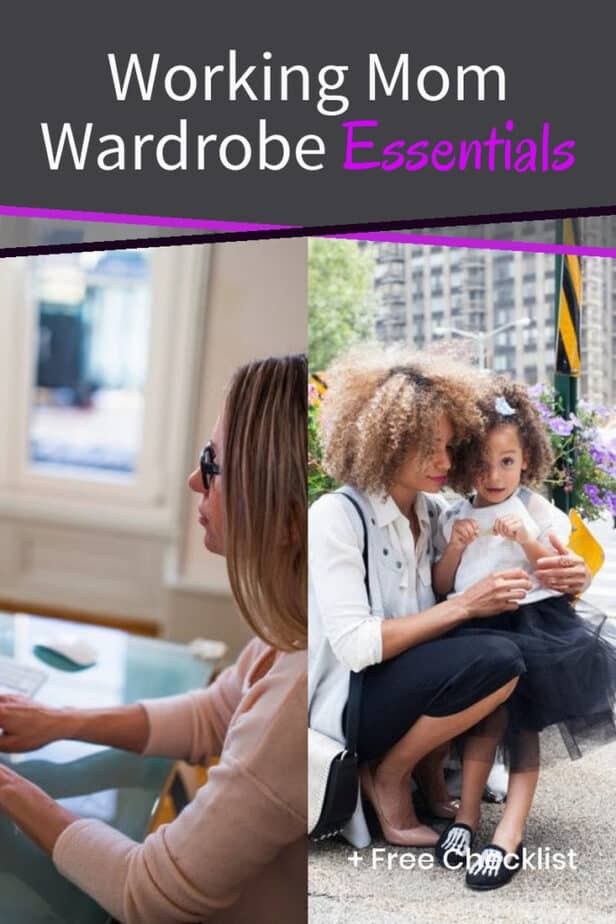 What Makes These Wardrobe Essentials Different than Other "Must-Have" Lists
Fit your lifestyle
Most "must-have" wardrobe lists include classic heels or cocktail dresses. Some may even have your trendy ripped faded jean. While these items may be something you need on occasion, they are not your dual duty duds and will not be found on this list. This list is for versatile or easy items only.
Fit your budget
All the items on this list are sure to hit the sweet spot in your clothing budget. As moms, we're always looking for a fantastic deal to stretch our money as far as possible. All items in this list are under $40.
Focus on comfort
Comfort is key. These items will look professional enough for the office, but comfortable enough for soccer practice or something you can easily slip on to take your office-appropriate ensemble into a causal mode.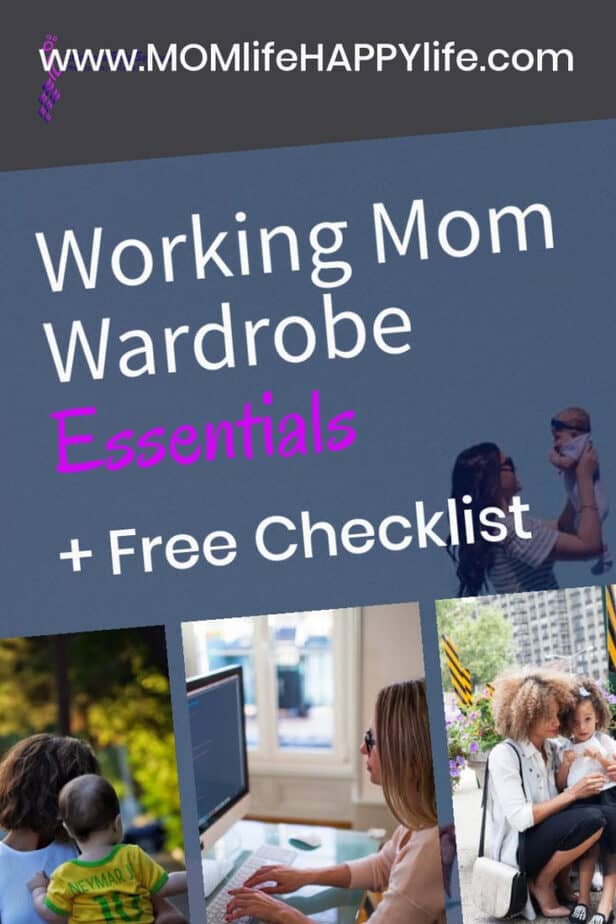 The Effortless 11 Wardrobe Essentials
Ankle Booties
Why do I love ankle booties?
They're smart enough to work for my business casual job, but can also be dressed down enough to tromp around on the soccer sidelines. Wear them with your ankle length or boot-cut trousers at the office or with your jeans on casual Fridays and after-work kid activities. Unlike your trusty flip-flops, these can be worn in all seasons.
Qualities to look for in ankle boots
Opt for a square heel or low heel as opposed to a pointed and/or tall one. Pointy heels will poke into the ground and be harder to walk in.
Look for booties that are enclosed. Some of the open toe and open back booties are super cute, but they lack the all-season versatility of the enclosed ones.
Cardigan
What's so great about cardigans?
Cardigans are a great layering piece. If you work in a place like the one where I work, you've got icicles on your eyelashes after a couple of hours at your desk. Not only do cardigans keep you warm but they also can be worn over tops that might not otherwise be office appropriate like camisoles or other tank tops.
Just as the keep you warm in the office, they do the the same when it may turn chilly after dark.
Cardigans pair well with professional ensembles in addition to your casual outfits.
They are a great layering piece which gives you more wardrobe options with limited items.
Qualities to look for in a cardigan
Look for a cardigan that has some type of closure. If it doesn't have buttons, at least make sure it has a belt.
Since most of us are not immune to the occasional mustard drip, make sure to get a cardigan that is machine washable. Pass on items with substantial wool content, they are too high maintenance and don't hold their shape as well.
A neutral or basic color will also provide more mileage. However, if you have a signature color or a very strictly defined color palette, another hue may do the trick for you.
Cotton Tank or Camisole
Why do I personally have a closet full of these tanks?
While I try to be more minimalist in my wardrobe, I have to confess. . . I have 8 of these tanks in my closet right now. What is it about these that make them such an asset? Unlike a standard cami, these have substantial straps. I think the straps help balance out a larger chest. You can wear them alone and your bra straps still don't show. Additionally, they are also great to wear under blouses, blazers or cardigans, but you can wear them solo as well when you transition to after work activities.
They are made of cotton, so they are absorbent and feel great up next to your skin unlike the clammy feeling some fabrics give you.
Qualities to look for in a tank or cami
The color should be one that you wear often. Dark colors work well such as black, brown, navy and charcoal. White, beige, oatmeal and cream also make good basics.
If opting for a spaghetti strap tank, make sure it either has adequate built-in support or you have a strapless bra that you are willing to wear with it.
Also, look for a mostly cotton fiber content for maximum comfort.
Dark Wash Jeans
What is there to love about dark wash denim?
First, casual Fridays! Wearing a dark wash looks nicer and more formal than lighter washes. Although the example below has some pre-worn fading (just enough to make the look modern) but not enough that you can't get away with it at work. You can wear them to work with a tee, blazer and ballet flats. After hours, just shed the jacket, and roll the hem of the pants for a more casual look. You can also easily swap out your flats for some sneakers.
What qualities to look for in your jeans?
Now, you want the wash of your jeans to be dark. Minimal to no fading is optimal. They should not have any holes, tears or fraying. Slim, straight, boot-cut or wide leg styles are more appropriate to wear to work than skinny jeans. You want to make sure that the fiber content has some lycra/spandex, but not more than 5%. Too my stretch will leave you with saggy drawers after a couple of hours.
Denim Jacket
What's so great about a denim jacket?
If your workplace is not lax enough that you could get away with wearing this to work, do not fear. Just keep your jacket handy in your car and switch it out for your blazer when you clock out for the day.
What qualities should you look for in a denim jacket?
If you can wear a denim jacket to work, again, look for one in a dark wash. It's dressier and more versatile. Make sure the jacket has actual pockets and not just the look-a-like faux pockets. These come in handy when your kid has something that you need to hold on to (I have pacifiers stuffed everywhere you can imagine).
Make sure the cut of the jacket isn't too boxy. The length shouldn't be any longer than high hip.
Knit Dress
Why is a knit dress one of the 11 wardrobe essentials?
Knit dresses look 100% professional, but they are also 100% more comfortable than their woven counterparts. These dresses are easily dressed up with a sharp blazer and heels. On the flip side, they can look equally as casual when paired with your denim jacket and slip-on sneakers.
What qualities should I look for in a knit dress?
First of all, find a knit dress that looks more like a dress and less than a really long t-shirt. The latter tends to send the message that you are on vacation or just rolled out of bed.
Secondly, check the fabric of the dress. It should be thick enough that you can't see through it.
Thirdly, check the sleeve length. Long sleeve will offer the least amount of versatility. I personally like short sleeves; you have the option to layer or not layer and still wear it in any season.
Fourthly, check the neckline. It should be conservative so you can wear it more places.
Finally, check the hem. Hems of dresses should be closer to the knee than mid-thigh. Midi or ballerina lengths are also great but may be harder to work with proportionally. You should avoid maxi-length dresses as they seem to be more resort wear than professional.
Knit Trousers/Ponte Knit Pants
Why would anyone want a pair of knit pants?
They look classy, but you feel like you're wearing your pajamas. Need I say more? I'm making these my new airport/travel pants. Classy and comfy!
What qualities should you look for in knit pants?
Whether you go with the wide leg knit pants like the example below or a more leg fitting style in a Ponte knit, the most important thing to look for is fabric quality. While it is okay to FEEL like you are wearing pajama pants, you should never LOOK like you're wearing pajama pants.
Also check the quality of the waistband. You don't want any plumber situations taking place throughout your day.
I should also take the opportunity to note: if you plan on wearing them to work, stay away from any knit pants that have elastic around the hem. AHEM… joggers are NOT work-appropriate (unless you work at a gym)!
Large Purse
Why EVERY MOM should have a large purse?
Full disclosure, for at least the first year of my youngest child's life, I carried a weekender duffle bag as my purse/diaper bag. It was wonderful. I had everything you could possibly need in that bag. IT . . . WAS . . . A . . . LIFESAVER!
What qualities should you look for in a large purse?
Be on the lookout for strong, durable straps, quality zippers and the thing that all women's purses need: COMPARTMENTS!
Long-sleeve Button Down Shirt
Why do you need a button-down shirt?
It literally does with everything (well except maybe your cocktail dress– ha ha):
Shorts- check
Dress slacks- check
With a blazer- check
jeans- check
with a cardigan- check
over a tank or camisole- check
with a skirt- check
as a swimsuit cover-up- check
with ballet flats- check
with ankle booties- check
under your denim jacket- check
with slip-on sneakers- check
over a dress- check, check
The possibilities are endless. Casual, professional. You name it!
What qualities should you look for in a button down to add to your wardrobe essentials?
Check the fiber content. If linen, it's a hard pass. Look for a mostly cotton content for more comfort. A poly-cotton blend will also be comfortable and get less wrinkled.
The sleeves should be long if you want the most versatile piece to be worn in all seasons.
Slip-on Sneakers
What's so great about slip-on sneakers?
First of all, they are comfortable. If your workplace is casual enough, you can wear these to work. Your feet will thank you. If you can't wear them to work, stash them in your car for a quick change. All the other soccer moms will be eyeing your cute kicks.
They are also the perfect footwear to don if you want to instantly dress something down– like your knit dress, perhaps.
What qualities should you look for in slip-on sneakers?
When looking for shoes, fit is very important. Just the slightest bit off and those potentially comfortable shoes may end up hurting your feet.
Stay away from overly ornate or "blingy" slip-ons because these are not appropriate for work and show wear more easily.
V-neck Tee
Why does a v-neck tee need to be an essential piece?
It's a great layering piece. Wear it under a blazer or cardigan with your workwear or alone with your shorts for a more casual outfit.
What qualities should you look for in a v-neck tee?
Look for a moderate to shallow "v". Too deep or wide of a "v" and it won't be work appropriate.
Look for high quality fabrics. Unlike most tees, the one below is made of rayon. While still being absorbent like cotton, it has a softer feel and a slight sheen that makes it look dressier.
I also prefer short sleeves to sleeveless or long sleeves. I feel like they can be worn a longer part of the year.
The Last Thing You Need to Know about Working Mom Wardrobe Essentials
In the end, being a working mom is hard enough and juggling work along with all the kids' activities is a chore too. Use these wardrobe essentials to make your life just a little more effortless when it comes to what you wear. I've created a little Printable Wardrobe Essentials Checklist for you so you can get started right away by checking off the items that you already have. Best of luck to you!
~Kim | Effortless Style Services
---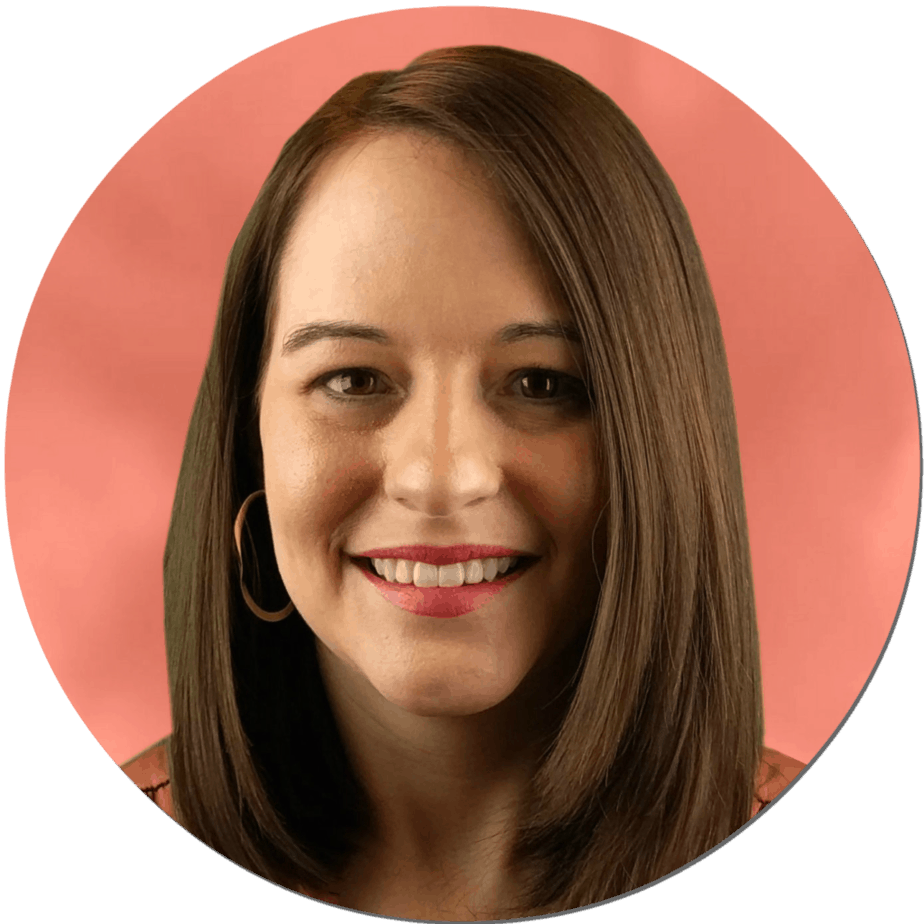 Hi, I'm Kim. I'm a working, married, mother of two rambunctious boys that constantly keep me on my toes. While I'm not working or chasing the two of them around, I'm helping women gain confidence and effortlessness through style education @ EffortlessStyleServices.com. How would you like to simplify your life a little? You can start with your closet and the Ultimate Closet Cleanout Toolkit.