7 Personal Finance Blogs You Need To Follow
Recently I was reading a shocking statistic that 87% of the elderly living in poverty in the US are women which explains the rise of all these personal finance blogs.
Are you a mom blogger trying to find a way to grow your blog?  Ever wondered what the top bloggers know that you don't?
Maybe you have been blogging for 12 months or more and you just cannot seem to get more than 1,000 sessions a month in traffic.
It is possible that you are hoping to get to the magic 25,000 sessions a month in order to get into Mediavine or Monumetric.
You see many bloggers struggle to gain traction on their blogs simply because they are not quite sure how to explode their traffic.
In this post, I am going to spend some time outlining the top 7 personal finance blogs as well as their top performing topics.
As a mom blogger you will learn how to find great topics for your blog as well as the best personal finance blogs to follow so that you can help lower than 87% statistic.
The idea is that you will use it as a framework that will help you to take your blog to the next level and even develop a content strategy for the next 12 months.
What Is A Personal Finance Blog
Just in case you are brand new to blogging or even if you struggle a little bit with English let me spend a little time explaining a few things.
A personal finance blog is one that offers advice on budgeting, making money, spending money, saving money and even investments.
This advice is mainly developed for the individual or family income with a view to taking them from where they are to a better version of themselves.
You would see a whole lot of examples where the authors saved money for a short or long period of time.
In some instances, they will share screenshots where they managed to generate income from investments or even their blog itself.
It is a great resource for anyone looking to improve their personal finances.
Personal Finance Blog Shortlist Criteria
As you can imagine in the last 10 years since the popularity of Dave Ramsey there has been a number of different blogs specializing in personal finance.
I spent some time looking at the top 22 personal finance bloggers recommended by many well-known sites.
After digging deeper than just face value I came to the realization that they are not all at the same level in terms of traffic or website visitors.
It is my personal view that the more successful blogs are the ones that manage to command a larger audience.
So, in the end, I chose those blogs that had a minimum of 3,000 visitors a day from their top 5-10 posts.
Of course, a single blog can have 100,000 thousand pages with each page getting 10 visitors a day.  I would prefer to have a 100-page site with each page getting 1,000 views a day.
Top 7 Personal Finance Blogs
If you are familiar with Maslow's Hierarchy of Needs you will know that at the very bottom are the physiological needs which are food, clothing and shelter.
This is one reason why bloggers in the food, real estate, personal finance, and fashion/beauty niche tend to do well.
In general, people need money to purchase these physiological needs so it is one reason why personal finance blogs tend to perform better compared to other niches.
With that in mind here are the top 7 personal finance bloggers as well as their daily visitors.
Millennial Money Man – their top 5 posts generate 3,000 visitors a day
Money Done Right – the blog's top 5 posts generate 5,000 daily visitors
Mr Money Mustache – they get 8,600 visitors a day from their top posts
PT Money – gets 30,400 visitors a day to their top pages
The Penny Hoarder – their top 5 posts rakes in 98,300 visitors a day
Making Sense of Cents – rakes in 5,200 visitors a day from their top pages
My Millennial Guide – gets 13,800 visitors a day to their site
As you can see they all receive varying amounts of traffic but the bottom line is that the traffic is enough to generate a full-time income as a blogger.
So, what sort of honey have they made available to attract all those bees to their beehives?  Let's take a look in more detail.
Top Personal Finance Topics
During my research, I discovered similarities and differences across all of the 22 personal finance blogs that I found.
One thing to note that a number of suggested ways to save and make money will differ by country.
At the end of the day, you should be able to find a similar or alternative service where you are that you can use for your family situation.
Millennial Money Man
a. Ynab vs Mint
b. Everydollar vs Mint
c. Dental Insurance
d. Flipping furniture
e. Living in a camper
Money Done Right
a. Paribus reviews
b. Free Internet
c. Sweatcoin scam
d. Swagbucks
e. Scrapyard
Mr Money Mustache
a. Sweet shower
b. DIY solar power
c. Home depot
d. Radiant heat
e. Betterment
PT Money
a. Medi-share
b. Christmas gift ideas
c. Work from home jobs
d. Get your taxes done
e. Capital One 360
The Penny Hoarder
a. Make money at home
b. Online jobs for college students
c. How to add money to your bank account
d. Paid survey sites
e. How to get free stuff on your birthday
Making Sense of Cents
a. Earn Amazon gift cards
b. Living in a camper
c. Summer lunch ideas
d. Make $1,000 a month
e. Instant pot thanksgiving
My Millennial Guide
a. Safeway monopoly
b. Paribus reviews
c. Apps that pay
d. Earny reviews
e. Free Internet
There are many items in the report that I am unable to explain as I have not tried using the suggested resources.
The goal of this post is to outline to you what is working for these top bloggers so that you can generate your own similar ideas to attract an audience.
Doing More Analysis
Let's say you want to write about one of these topics as it suits your blog and journey really well.
Looking at one of the worse performing topics from this huge list I will do a deep dive to help you decide how to get results from your post over time.
The worse performing post which is getting only 78 visitors a day is on the topic living in a camper.  By the way, that works out at over 2,300 visitors a month for one post.
Suppose you and your partner also live in a camper van and you want to write about your experience.
Using two keyword tools I will take a look at the keyword 'living in a camper' to see what results I get.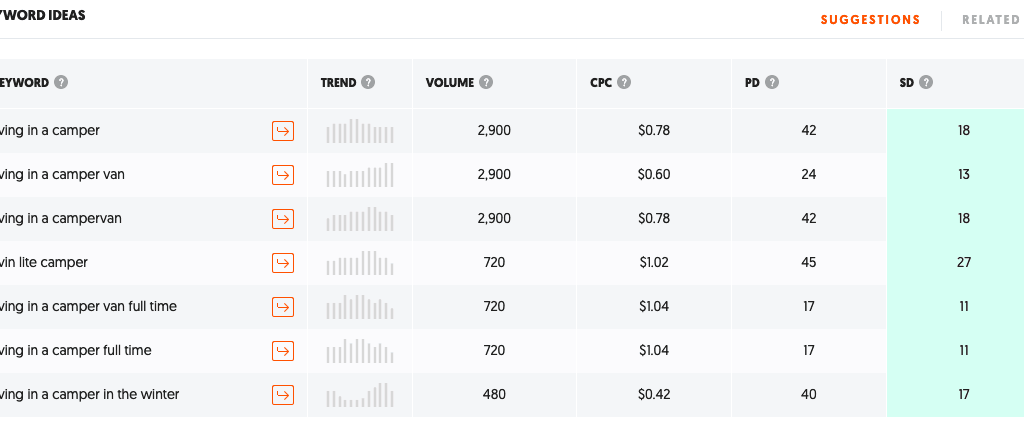 According to Ubersuggest, living in a camper has a relatively good search volume with an easy enough SEO difficulty.
Looking at the backlinks required to rank in the top 20 using Keysearch there does not seem to be a need for many backlinks to rank or get decent traffic.
Looking at the competition on the first page results it would appear that I would need to also create a YouTube video to be favoured for this particular keyword.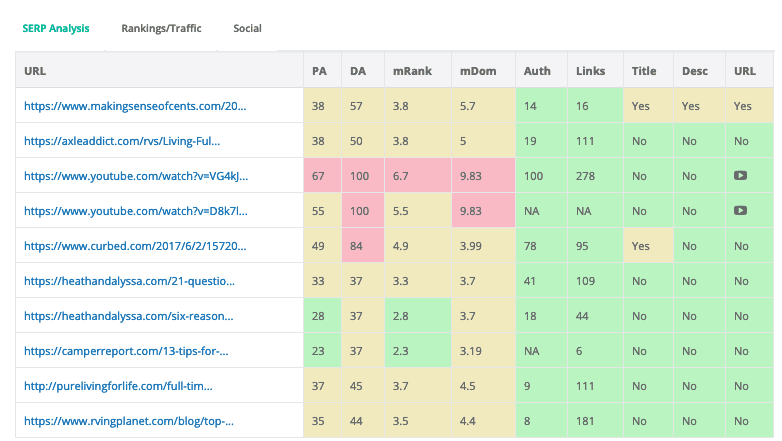 I also need to know what is the average word count on the 1st page of Google for this keyword and I can see that it is around 3,100 words.

Here is another screenshot showing page one results in the Google search with video taking precedence.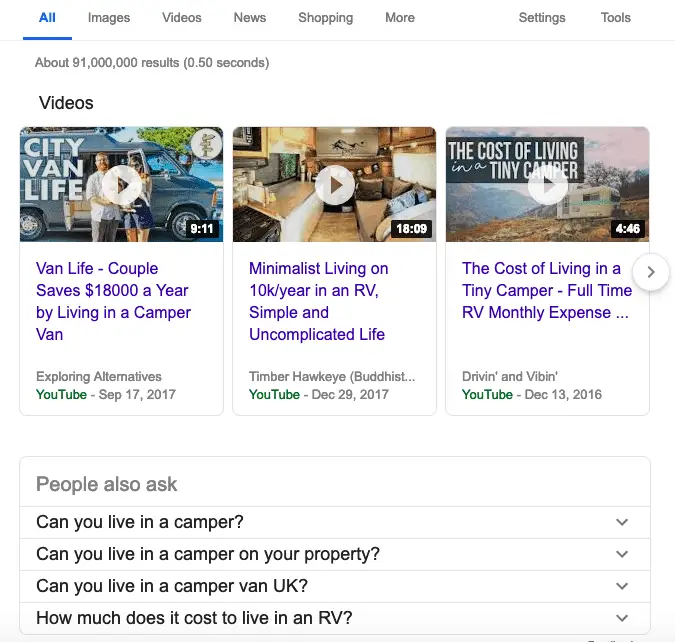 It is so very important to understand the user intent before embarking on a project like this one.
Here are the page titles that clearly highlights what the user intent is in each of these results.  There is a good mix of 'how to' and 'saving money' topics.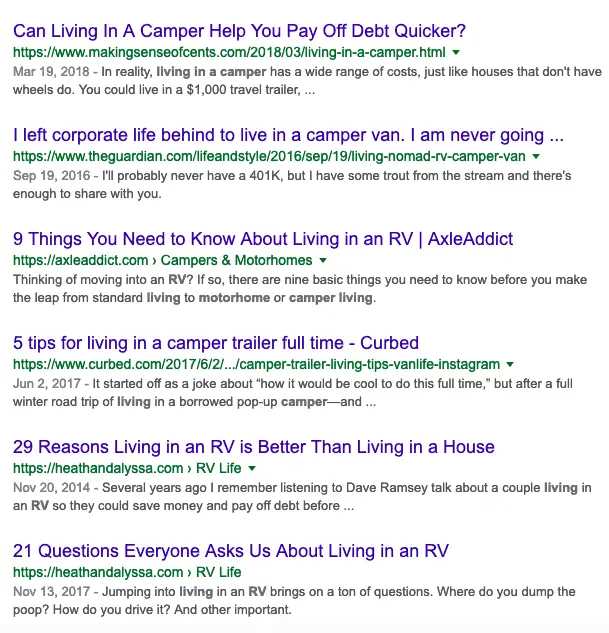 If you are planning to create a video for YouTube it is also super important to have both TubeBuddy and VidIQ Chrome extensions to see what you can glean from the results.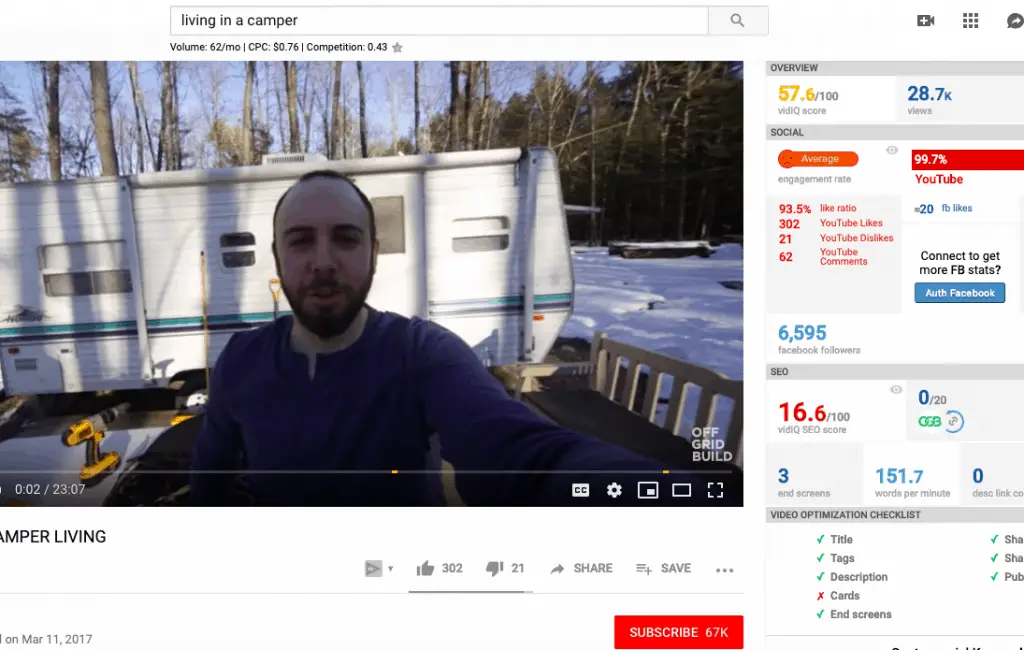 Here are some results for the first video with VidIQ switched on.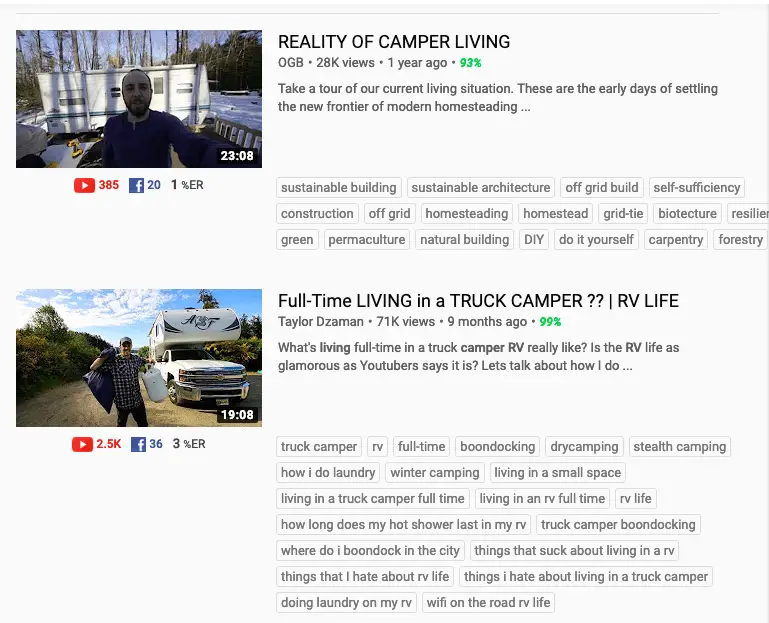 Here are the tags that can be used to increase your rankings and traffic in YouTube after using the handy VidIQ Chrome extension.
Remember to use the second part of Keywords Everywhere to find the associated pain when people are searching for this specific keyword.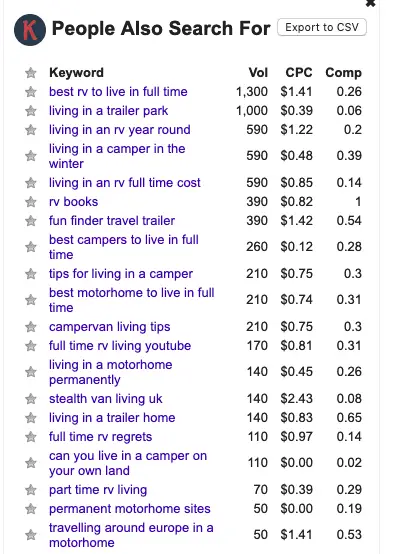 Key Takeaways
If I were to summarise these 30+ topics in a nutshell I would say that it all boils down to all of the areas of personal finance.
How to save money
Genius ideas to live relatively cheaply
Investing your money to generate an income
Clever ways to earn extra money
As a mom blogger, you can start by thinking of ways in which you are already saving money at home.  Or even frugal living ideas.
You can then find new ways to develop an arbitrage system where you buy low and sell high in order to make a profit.
At the end of the day, your blog should be there to help transform the lives of your readers by offering a comprehensive step by step solution.
If you are like me and think that too many elderly women are on the poverty line then be part of the solution and become a successful blogger or help other moms escape this dilemma.
Find out how you can uncover wide open markets that you can easily profit from by checking out the free video on how you can find your untapped niche markets here.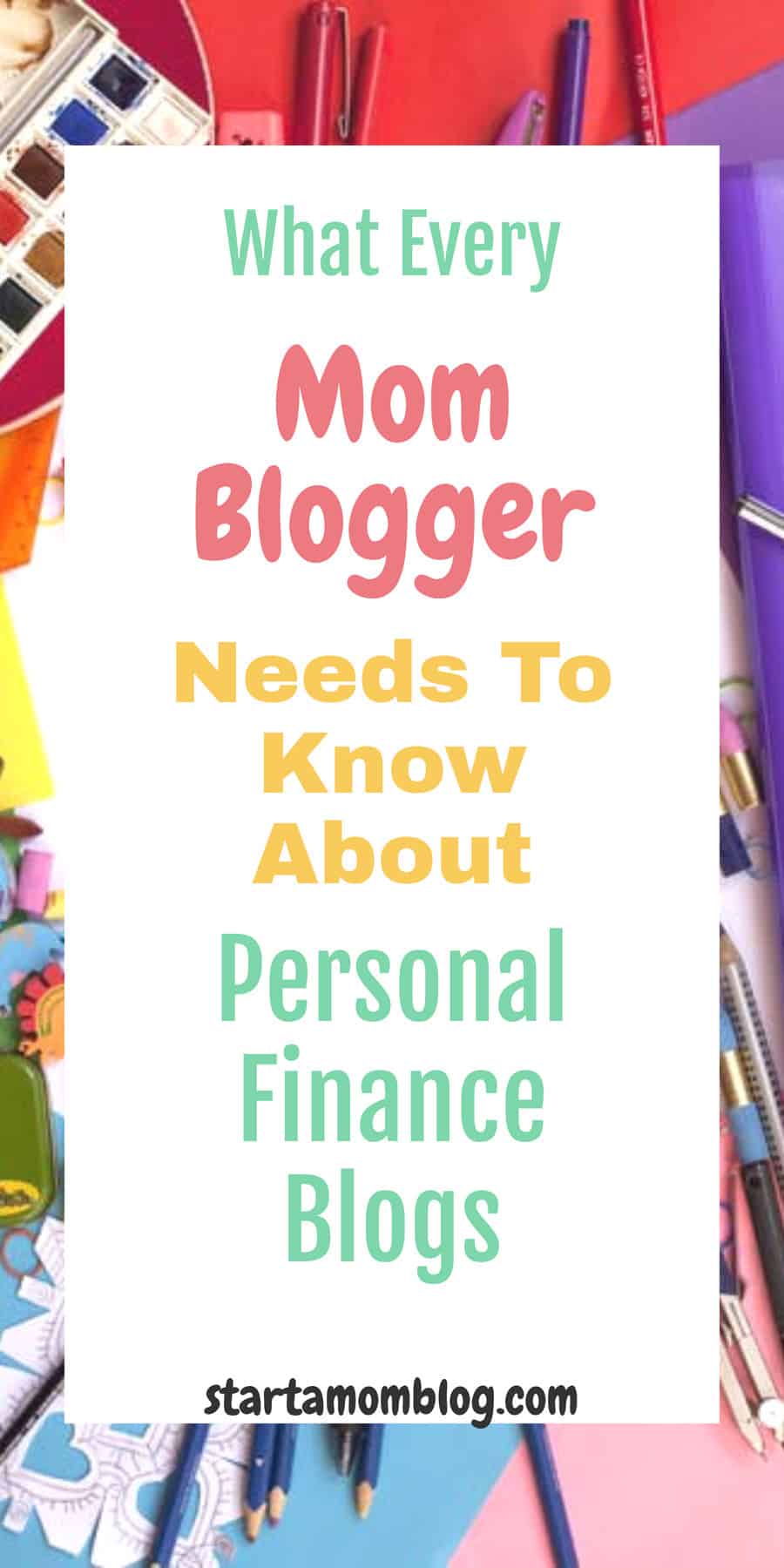 ---
Alvern is a blogger, podcaster at Success Unscrambled and Mother of 2. She has a keen interest in empowering women to leverage technology to their advantage. She encourages women daily to get onboard to tell the world of their awesome and valuable talents.